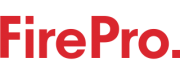 FirePro designs, manufactures, and distributes worldwide, the latest generation of efficient, effective, and modular condensed aerosol fire suppression generators and solutions. At the core of our technology is its patented condensed aerosol generating solid chemical compound (FPC) consisting of eco-friendly potassium salts.
FirePro systems can be used to protect a multitude of applications even including ones that are considered to be technically or financially challenging for other technologies. The worldwide network of FirePro distributors serves more than 110 countries and currently protects lives and key assets throughout industrial and other sectors. FirePro suppression systems are endorsed by a long list of European, American and International Certificates, Listings, Approvals including UL, BSI, LPCB, KIWA, VDS ACTIVFIRE, KFI, BV, ABS, MCA.
Our vision is to make the world safer; By making universally available the use of our environmentally friendly effective fire suppression technology.