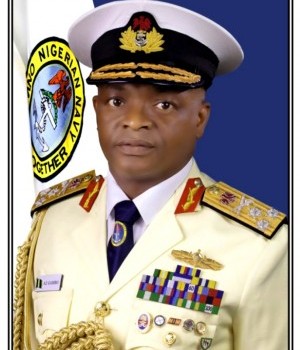 Vice Admiral Awwal Zubairu Gambo
Chief of Naval Staff
Nigerian Navy
Vice Admiral Awwal Zubairu Gambo was born on 22 April 1966 in Nasarawa Local Government Area of Kano State. Vice Admiral Gambo attended Gwagwarwa Special Primary School, Kano where he obtained his First Primary School Leaving Certificate. Thereafter, he proceeded to Rumfa College, Kano where he got his West African School Certificate in 1984. He enlisted into the Nigerian Defence Academy as a member of 36 Regular Course on 24 September 1984 and was commissioned Sub-Lieutenant on 24 October 1989.
Vice Admiral Gambo has attended several military courses at home and abroad. These include the Sub-Technical Course at Nigerian Navy Ship (NNS) QUORRA, Apapa, Lagos from 1991 to 1992, Young Officers Course Intelligence in 1995 and Officers Long Course at NNS QUORRA with specialization in Under Water Warfare in 2000. The senior officer also did his Junior Staff and Senior Staff courses at the prestigious Armed Forces Command and Staff College Jaji, Nigeria in 1999 and 2003/2004 respectively. Later, the Admiral attended the National Defence College, South Africa as a member of Course 26 of 2012. After successful completion of the course, he earned the right to use the post-nominal title Executive National Security Programme (ensp), Republic of South Africa (RSA) as an alumnus of the institution. He was also at the National Security Seminar by Galilee International Management Institute Israel at Defence Intelligence College Kuru, Abuja in March 2013.
In the pursuit of academic excellence, the Chief of the Naval Staff obtained a Certificate in Information Technology from Modern Business Machine at Moloney, Lagos in 1998. Vice Admiral Gambo also attended the Ladoke Akintola University of Technology, Ogbomosho where he successfully graduated with a Post Graduate Diploma in Transport Management (Logistics Option) in 2008 and followed by a Master of Science Degree in Transport Management (Logistics Option) in 2009. The senior officer equally holds a Certificate of attendance of Sting Operations Workshop on National and Corporate Investigation organized by the International Institute of Professional Security (IIPS), Abuja in 2017.
The 21st indigenous Chief of the Naval Staff has held many appointments in the Nigerian Navy. As a Midshipman, he served onboard NNS AMBE from 1988 – 1989 and NNS ENYIMIRI in 1990 as a Watch Keeping Officer. He was also onboard NNS AYAM in 1993 and NNS DAMISA in 2000 for Watch Keeping duties. As a young officer, he was the Officer in Charge of Tug APAYI JOE in 2001, Staff Officer Grade II Intelligence Maritime Component Operation HARMONY in 2002 and Base Intelligence Officer NNS DELTA from 2004 – 2005 and Base Operations Officer NNS DELTA in 2005. Vice Admiral Gambo later became the Staff Officer Grade I Plans, Naval Training Command from 2005 – 2006, Executive Officer NNS AYAM from 2006 – 2007 and Deputy Director Order of Battle (ORBAT), Headquarters Defence Intelligence Agency from 2007 – 2008. He also diligently served as Naval Assistant to a former Chief of the Naval Staff from 2008 – 2010.
The Admiral was the pioneer Defence Attaché Luanda, Angola from 2011 – 2013 and Commander/Commandant of Directorate of Naval Intelligence Annex and the Nigerian Navy Intelligence School, Apapa, Lagos from 2013 – 2014. In 2014, the senior officer was made the Deputy Director and Acting Director Defence Affairs in the Office of National Security Adviser and completed his tour of duty in 2015. He was equally the Director Simulation at the Naval Doctrine and Assessment Centre, Bonny Camp, Lagos from 2015 – 2017 and the Director Search and Rescue at the Defence Headquarters, Abuja from March - September 2017. Notably, Vice Admiral Gambo was from June - September 2017 the Security Coordinator Presidential Relief Committee on North Eastern Nigeria. He also held the post of the Chief Staff Officer, Headquarters Naval Training Command, Lagos from September 2017 – September 2018. Vice Admiral Gambo was appointed Director Procurement, Defence Space Administration in September 2018, the appointment he held until his appointment as the 21st indigenous Chief of the Naval Staff on 26 January 2021.
In the course of his distinguished service in the Nigerian Navy, the Chief of the Naval Staff has earned some prestigious awards which include ECOMOG Peacekeeping Medal, passed staff course (psc), General Service Star (GSS), ensp (RSA) and Admiralty Medal (AM).
Vice Admiral Gambo is a member of some recognised professional bodies. He is a Fellow Nigerian Institute of Management and Fellow Institute of Safety Practitioners (FISP). He is also a Fellow of the Certified Institute of Shipping (FCIS), Member Governing Council and Member Council of Fellows - International Institute of Professional Security (FIIPS), Fellow Chartered Institute of Public Diplomacy Management (FCIPDM) and Fellow Occupational Safety & Health Association (FOSHA). Vice Admiral Gambo is a Life Member United States Naval Institute and recently awarded Honourary Doctor of Science by IRSBACCOM.
Since his assumption of office as the current Chief of the Naval Staff, Vice Admiral AZ Gambo has recorded several feats towards propelling the Nigerian Navy to the next level of operational efficiency. Notable amongst these is the significant reduction in piracy incidents in the Gulf of Guinea from 44 in 2020 to only 10 between Jan – Oct of 2021, most of which were thwarted and unsuccessful. Accordingly, the International Maritime Bureau (IMB) Global Piracy Report of 14 Jul 21, indicates the lowest total of piracy and sea robbery against ships in 27 years. This report was corroborated by the Defence Web maritime security report of 15 Oct 21 which noted further decline in reported cases of piracy and armed attacks against shipping. Similarly, available records show a marked reduction in crude oil theft and illegal bunkering activities occasioned by the increased presence of Naval assets at sea. Within this short period, the NN has also taken delivery of several capital ships, such as NNS LANA as well as the Commissioning/Induction of the indigenously built SDB III – NNS OJI and subsequent keel laying for the construction of SDB IV and SDB V respectively while LST 100-NNS KADA will be joining the fleet by April this year. Relatedly, the NN recently got approval for the establishment of a new Naval Doctrine Command and 6 other units. It is also worth mentioning that the CNS has garnered the support of other maritime stakeholders, which led to the donation of maritime assets by AITEO and the NEXIM Bank. These feats no doubt foretell greater achievements for the Nigerian Navy.
Vice Admiral Gambo is a devoted Muslim who is happily married to Hajiya Nana Aishat Gambo and the marriage is blessed with 3 children. The senior officer enjoys cycling, golfing, watching nature and reading psychology books.